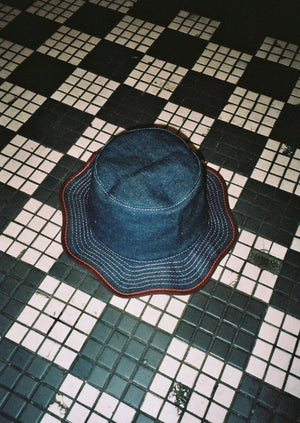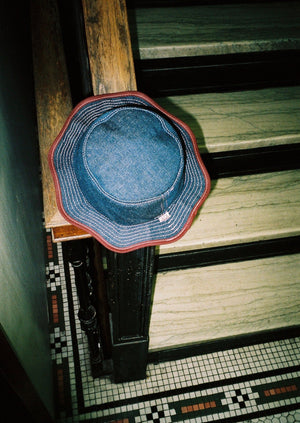 Look 10 VFW
Our modern, gender neutral take on a utility dress; made from dusty grape, 10 oz bull denim, semi selvedge stripe material. Sewn with a powder pink stitch, each detail from the zip up front to the cinch-waist is made to carry your eye from top to bottom. This look is topped with our wavy daisy up-cycled denim hat with pink stitch.⁠
Utility Dress - One size Fits S - L
Wavy Daisy hat - Size M
Dress:
CF length to hem: 45"
Cross chest: 22 3/4" (45 1/2" total)
Cross waist w/ synch at tightest: 12" (24" total)
Cross waist w//o synch: 20 1/2" (41" total)
sleeve length: 9.5"
Hem opening: 24" (48" total)
Details:
10 oz dusty grape bull denim

7.5 oz semi selvedge stripes 
One size - fits pant sizes 27 to 34 approx
Handmade to last a lifetime