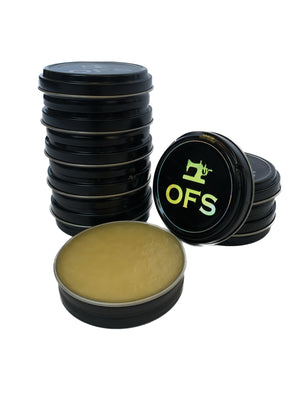 Re -Wax tins
A tin of wax to re-wax OFS oilcloth and waxed cotton products or to wax any natural fibre cloth for the first time.  One tin of wax will do a jacket if the jacket was already a waxed cotton / Oilcloth product to begin with. The following instructions are for how to use this specific type of wax:

1. Clean garment first with cold water. Either do a cold water soak with a soft bristle brush and soap or you can use a hose with light pressure.
2. Hang garment to dry for at least 24 hours.
3. To re-wax use the wax provided by OFS or a wax that has a similar consistency to vaseline. 
4. With the heat of your hand, massage the wax evenly to all fabric surfaces with special attention to the seams. Do not use a sponge unless you are a professional as this turns out splotchy.
5. Hang for another 24 hours for the material to absorb wax.
6. After 24 hours if any areas aren't even, you can take a hair dryer at medium low heat and warm up the wax again to spread.
7. The first week after a re-wax your product will look shinier, greasier, and darker but will slowly patina again. 
8. Rewaxing your garments and products is essential for the health and waterproofness of the cloth. 
9. If it is the first time waxing the material that is not already a wax cotton you will probably have to do the treatment twice.